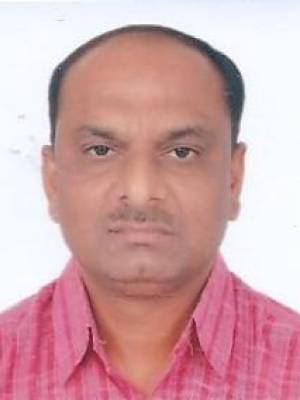 Prof. (Dr.) Kishorkumar Gordhanbhai Maradia
E-Mail : [email protected]
Education:
Ph.D: Wireless Communication in EE Engg.(EC), M.S. University of Baroda, Vadodara.
M.E. (Communication Systems Engineering) : Gujarat University, Ahmedabad.
B.E. (Electronics & Communication) : Bhavnagar University.
Experience
Working as Principal of GEC, Rajkot.
Professor and H.O.D. of (E.C.), Government Engineering College,Sector-28,Gandhinagar.
Head of E.C. Department, H.O.D.(E.C.),GEC Modasa. Read more
From the Principal's Desk
Dear Students,
It is my great pleasure to welcome you all to our esteemed engineering institute.
Our institute is known for its excellence in academics, research, and innovation. We are all proud to be a part of it. The institute received a 4 star rating from the Institution's Innovation Council (IIIC) in its 2020–21 ranking and ranked first among government engineering colleges in Gujarat. The institute received three stars in the category of engineering on the basis of comprehensive performance matrices as set out in the Gujarat State Institutional Ratings Framework (GSIRF) in February 2023. Institute is recognised in band "promising", under the category Colleges and Institutes (Govt. and Govt. Aided—Technical) in the ATAL Ranking of Institutions on Innovation Achievements (ARIIA-2021). Two programmes, BE (Mechanical) and BE (Civil) are NBA-accredited and the remaining programmes are in the pipeline. The college has a remarkable enrolment of nearly 3000 students with diversified cultures from across the country studying together in nine various disciplines.

A state-of-the-art and quality education is provided to our students through classroom and laboratory teaching. Various webinars, workshops, technical events, competitions, and industrial visits are arranged by the department to educate students about the latest developments and trends in their field of study and provide practical exposure to real-world applications. All of our departments are following the outcome based education philosophy as per the NBA. We are committed to imparting excellent education in line with NEP-2020. Student clubs like GATE Club, Abroad Study Club, Google Developer Student Club, CodeChef, IEI Students Club, Entrepreneur Cell, NSS, NCC, Cultural Club, Sports Club, and Women Development Cell have been established and are organising various skill development activities regularly that help students to get prepared for successful careers in the engineering profession. 
In 2022, more than 100 students are placed with a maximum package of 7.5 LPA through a campus placement drive and placement fair organised by the education department GoG. Esteemed companies such as Reliance Industries, Adani, Tata Consultancy Services, L&T, Nirma, eInfoChips, Tatvasoft, Bolt, and Weboccult contributed to these glorious placement achievements. The glorious placement achievements are attained by grooming and polishing the employability skills of students with the help of the Finishing School to generate a polished and adaptive workforce for the industry ecosystem to fulfil our vision of the institute.
I want to take a moment to acknowledge the achievements of our institute. We host the regional level Hackathon, the grand finale Hackathon in 2022 under Student Startup Innovation Policy 2.0, and the GTU central level Techfest in 2022 at our institute to provide a platform to unleash the problem-solving skills and entrepreneurial talent of our youth. These achievements are a testament to the hard work and dedication of our  students, faculty, and staff. The events under 'Azadi Ka Amrit Mahotsav', 'Har Ghar Tiranga, and G20 gave us the opportunity to pay tribute to the nation. Activities conducted to celebrate Climate Change Week' reminded us of our responsibilities for mother earth and nature.
To promote R&D, the institute has created the central facilities of the Centre of Excellence and the Supercomputer Facility. Also, the SSIP Cell of the Gujarat Knowledge Society has provided financial support to the Government Engineering College, Rajkot, for the development of a student-centric eco-system for the student entrepreneurs. Under SSIP, Government Engineering College, Rajkot, has developed a pre-incubation centre and tinkering lab named 'NIRMAN', with an area of 244 square metres. It has a unique combination of laboratory space and co-working space, with a capacity of 50 students. The Centre is equipped with various modern project development boards like Arduino and Raspberry Pi to implement IoT and embedded systems-based projects. A variety of sensors and electrical & mechanical accessories are available to develop the prototypes of their concepts. The facility of 3D printing is also available from the Centre of Excellence at GEC Rajkot. Our institute is this way equipped with very good laboratories and the infrastructure needed for sharpening the engineering skills of the students as well as research and development for all stakeholder.
Many of our students won best cadet prizes at the national level, and our participants were appreciated by the Honourable President of India and DTE Gujarat for showing their best performance during NCC training and at YEP 2022. GECR is providing many platforms for co- and extracurricular activities of our students to make them technically competent and socially responsible engineers.
The Alumni Association of our institute, AAG-GEC Rajkot, is committed to provide the spark for igniting the fire within each member of the association to help, contribute, and serve for the betterment of the student fraternity.
We, as a team at GECR, assure our students that committed faculty members and the infrastructure of the institute will become catalysts for shaping their bright careers. Take advantage of the opportunities that our institute provides, work hard, and strive for excellence. I appeal to the faculty members to be student-centric for their overall development through your dedication, commitment, and expertise. Let us work together to ensure that our students receive the best education possible.
GECR is planning to establish state-of-art, high end laboratories in the areas of 'Advance Manufacturing process & Robotics' and 'Semiconductor Design and Advance Verification'.
You are now a part of this tradition. Stride forth with enthusiasm and humility on the way to your goals. Elevate yourself, your classmates, and the institute to new heights – Small steps, but a huge vision and iron persistence are required. I am confident that when we look back in history, we will be pleased that we did our institute and ancestral home prould.
With best wishes, 
Prof. (Dr.) K. G. Maradia Principal, GEC, Rajkot